sustainUS World Bank Delegation 2017
Delegation of U.S. Youth: Calling for the World Bank to end both fossil fuel investment by 2020 & indigenous non-consent
As a delegate I worked with partner civil society organizations to push the World Bank Group to change policies on climate change and equitable distribution of development finance through coalition building and media strategy. Specifically, I coordinated coalition building with dozens of civil society members, crafted and delivered statement of demands to Christine Lagarde, Managing Director of the IMF, and Jim Kim, President of the World Bank, managed a photo campaign, organized a press release and press conference.
PRESS RELEASE
CRAFT AND DELIVER YOUTH DEMANDS TO CHRISTINE LAGARDE, MANAGING DIRECTOR OF THE IMF, AND JIM KIM, PRESIDENT OF THE WORLD BANK
The World Bank (WB) has committed to take climate change into account for all of its future investments, yet has lent $5 billion over the last decade for coal and other fossil fuel initiatives in Southeast Asia, South America, Africa, and the Middle East. These investments threaten climate change efforts, indigenous livelihoods and sacred sites, and the life-sustianing natural world. As members of the generation that will inherit the present system of exploitation, we have an urgent need to correct this destructive paradigm.
What changes must happen for the World Bank to sincerely commit to "end extreme poverty and promote shared prosperity in a sustainable way"?
In order for the WB to fulfill its mission, it must be inclusive in how it addresses climate impacts, energy poverty, and nonconsensual projects; therefore, we, the SustainUS 2017 WB Delegation demand that the World Bank:
1. Expand Civil Society space. It is absolutely critical to make space through advisory council or representatives for the voices of those directly impacted by WB decision-making: youth, indigenous nations, refugees, and people with disabilities.
2. Make the dramatic shift to 100% renewable investment that reflects the urgency of recent climatic events. Slow transitions are tantamount to non-committtals to the populations the WB is designed to assist if WB does not commit to a 1.5C degree future. This means immediate divestment from energy projects that contribute to climate instability, energy poverty, and population displacement.
3. Evaluate and eradicates the WB's paternalistic structure. The most successful and enduring projects are those that are owned by communities and which validate traditional and local knowledge. Committing to and prioritizing the needs of the people through Civil Society spaces as well as consultation will deliver positive impacts that resolve issues identified by the communities in question.
4. Create a shift in the operating paradigm by prioritizing cultural loss and mitigation of related damages by developing a mechanism for consent, not merely consultation. The WB must use a framework for evaluating project impact that is based on equality and reciprocity. When sovereign indigenous communities impacted by projects are consulted but do not give consent, the WB effectively breaches its political prohibition by siding with colonial oppressors. Sustainable development requires a framework devised to include qualitative elements such as cultural customs, rituals, and priorities. Not creating a shift in the development paradigm further exacerbates systemic injustice and irreversible loss of identity.
1. Michael Berger 9. Aisha Jamali
2. J.I. Cruz 10. Cassidy Jones
3. Naveen Dasari 11. Yaira Matos
4. Kayla DeVault 12. Brian McDermott
5. Greg Eicchorn 13. Gloria Oladipo
6. Ingmar Empson 14. Qomaruliati Setiawati
7. Brian Gómez 15. Ali Shahbaz
8. Julia Grifferty 16. Joyce Zhou
For further consultation, contact info@sustainus.org.
DIRECT ACTION
ORGANIZE THE online and in person UNVEILING OF THE WB17 DELEGATION DEMANDS
PHOTO CAMPAIGN
COLLECT DEMANDS FROM GLOBAL CIVIL SOCIETY
I Want A World Bank That...
PRESS CONFERENCE
ORGANIZE AND MANAGE delegation press conference
Unsung Heroes of GW Holiday Campaign
Say Thanks to #UnsungColonials
The custodians, bus drivers, food and service workers and other service staff at GWU keep the university running behind-the-scenes but often go unrecognized. To change that, a group of students joined a national movement by co-founding Unsung Heroes GW–news & media organization that highlights the contributions of university service staff through visual story telling. They share in depth interviews with these employees to emphasize the importance of their role in their community, advice to students, their dreams & ambitions, and lessons learned during their lifetime. Once the community begins to acknowledge the employees that keep your campus running and connects with them through their stories that we share, they develop a sense of appreciation and want to give back to them for all of their contributions to our community. That is why this holiday season they launched Say Thanks #UnsungColonials campaign. The goal was to introduce Unsung Heroes GW to the community, to make service staff visible to students and faculty, to encourage students to say thanks to the service staff in their surroundings, to inspire the conversation about how students treat campus workers, and to jump start the long campaign to create a culture of recognition on campus.
We often overlook an important part of the GW community–the custodians, bus drivers, cashiers and other service staff. They keep the university running behind the scenes but often go unrecognized and unappreciated. To change that, we are sharing the stories of these #UnsungColonials to highlight their contributions to the community.
This holiday season, please join us in saying Thanks to #UnsungColonials by taking part in our photo campaign between 12-4pm on Thursday, December 7 and Friday, December 8 in Kogan Plaza.
GRAPHICS
ADOBE SPARK
SOCIAL MEDIA CAMPAIGN STRATEGY PRESENTED IN ADOBE SPARK.
ECO-CITIZEN WATER PROJECT
Our overall mission is to promote Eco-Citizenship at all economic levels of society by reducing dependence on bottled water in the UAE schools and labor camps by creating systemic access to refillable water and carrier solutions. The objective of the initiative is to install water dispensers, provide reusable bottles and host Eco-Citizen Workshops.
We invited Bahareh Amidi, a professional at using language and poetry as a means for therapy, took 150 women through a 40 minute "Expression Session". She opened up her expression session with "How do you say hello your language?" going from villa to villa, seeing which group of women would cheer the loudest. By the end of the session eight women took hold of the microphone to share their thoughts and feelings that Bahareh's poems induced. In fact, women took hold of the mic to sing in front of everyone else. Throughout the entire session Vidushi Saxena, junior at ACS, and a Boot the Bottle leader, provided translation.
Volunteers, students from Gems American Academy, the British International School joined ACS students to facilitate the session, took some of the women through the activities, made sure every woman was equipped with paper and pens and reusable bottles. Most importantly, we got to know some women more personally and became more aware of life as a migrant worker.
At the end, the volunteers distributed reusable bottles that were sponsored by the Advanced Cure to each woman, and opened the newly installed water dispenser. Before so, Vidushi Saxena delivered a speech in Hindi about the importance of drinking water from a sustainable source for health, finances and environment.
We hosted an Eco-Citizen Water Project event at the American Community School of Abu Dhabi. After delivering an Eco-Citizen workshop to 40 campus workers in both English and Hindi, they distributed reusable bottles to every person. The bottles were sponsored by The Cure.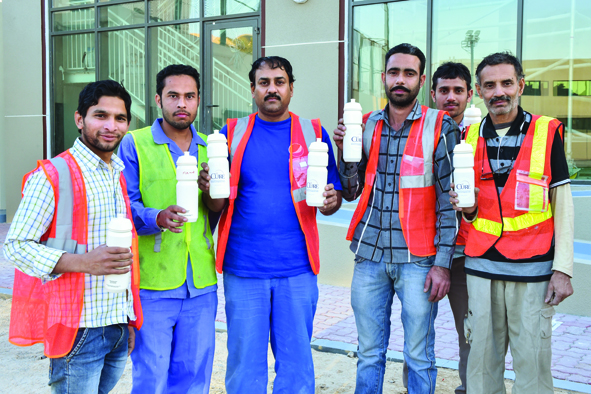 NEWS: City student takes the initiative to promote sustainability in water usage
Posted on 18.02.16
In a climate that's hot year-round, we'll often grab a bottle of water without worrying about anything beyond quenching our thirst.
But one green-thinking teen is trying to change all that and get people thinking about the consequences of bottled water.
Julia Grifferty, an 18-year-old student at the American Community School, distributed reusable flasks to construction workers at her school in a bid to get them to ditch the plastic.
"I identified bottled water as a huge cause of carbon emissions," explained Julia.
"We have three million labour workers in this country, and from research I know that they're going to buy two bottles of water a day," she added.
"These labourers may not be the ones using the most energy, but if you change this habit then the effects are going to reverberate."
No stranger to sustainability, Julia set up her first green campaign 'Boot the Bottle' aged just 14, after being inspired to reduce waste in school.
"My first thought was that schools are a huge consumer of bottled water, so I wanted to make a change."
After successfully getting her fellow students to swap their plastic for reusable containers, Julia is keen to spread the message to the wider community.
"My hope is to sow the seeds so that other schools and companies can provide for their labour force," she explained.
"The UAE and other GCC countries are a model for the rest of the world because they started from scratch," reflected Julia. "We're a place where innovation can occur and we can show how modern society can be."